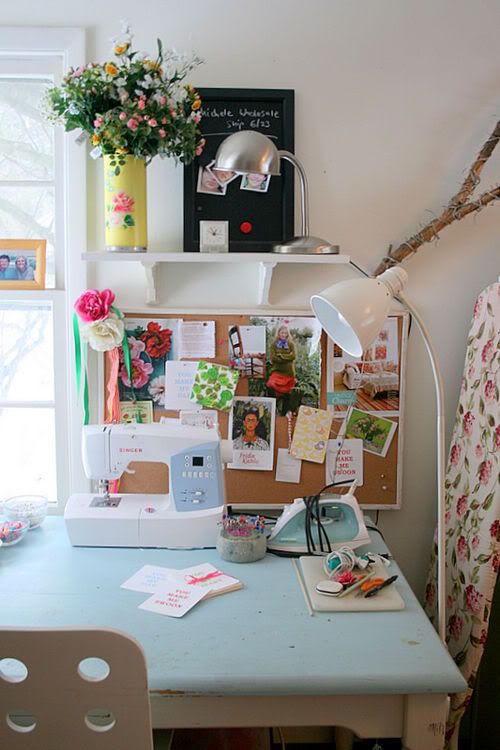 this summer i'm going to move into a workspace for
eighty 8
in red bank! it's a large finished basement (in the building my dad's office is in and my mom owns. so let's say i just got lucky with this one..) with it's own door to the outside & a tiny kitchen. i'm determined to decorate it with wonderful garage sale & thrift store finds. I already have a couple of chairs, a desk & a beautiful light pink couch. I plan on adding an inspiration board, work table, sewing section and a place to photograph each item. i'm so excited because it will give me a place to go to work on everything and keep the vintage dresses i'm collecting (with plans to sell in the shop. stay tuned!) it'll be like a little hang out/office that i'll be able to work from when i'm home for the summer & when I come back and forth from georgia.
i've been ripping different magazine articles out, finding photos, fabric swatches, basically anything that appeals to me and my style for my huge inspiration board for above my desk and throughout the space. going along with that whole idea, i've been looking at my favorite design blogs for workspace & decorating ideas. i know i'm getting carried away, it's just a basement office for my tiny tiny tiny business but hey, it's my first opportunity (aside from my room) to really decorate something for myself with my own vision. here are some of my favorite pictures that i've found on
Decor8
and
Design*Sponge
that make me so happy. (above)
on another exciting note: looks like I just may be living in something that looks like
this
(which is apparently haunted!) or
this
next year (or another option. cant find a pic) i have to wait until july/august to find out which one & who my roommates will be. i gotta admit, i'm gettin' pretty nervous but the good kind of nervous. peaceful nervous.
ps: this song is so beautiful. listen:
Heretics - Andrew Bird