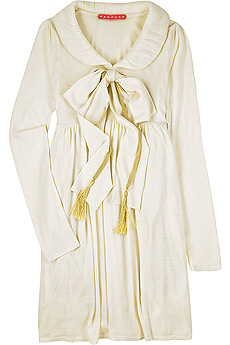 Manoush
is a French fashion label that I discovered when I was in Cannes. My friends and I were shopping one afternoon and came across this extremely pink and girly looking boutique with interesting dresses in the window. We finally went in & fell in love with all the quirky feminine pieces they had to offer. One of my friends even wound up splurging on a beautiful gray-purple ruffly
bib dress
that she still wears all the time. For the longest time, we thought that it was just a boutique located only in France but I soon realized it's a fairly large label sold all over the world. I even found it at a boutique in Red Bank and this past December in Manhattan my friend bought a brocade Manoush jacket at Loehmann's.
ANYWAY. It's very girly, cutesy and frilly. And you know what, that's fine. I like that shit sometimes, alright? I think i'm feeling a bit down on myself that may or not be because a certain professor of mine making me feel weird for liking florals and 'baroque-inspired stuff'. meh. I can't let that get in my way. What I like is what I like. What he likes is what he likes. Fashion is fashion, but style (the 'important' stuff) is personal, so let's get over ourselves. I'm in this for the women, and I don't mean that in a greasy George Clooney way. I mean it in a way that my taste leans towards pretty, feminine, wearable pieces that will make women (and men) feel great about themselves. Not about what avante-garde couture mess is walking down the runway making women look like complete buffoons, you know? That's not what I'm in it for. A bow, soothing colors, a ruffle & a print here and there? Yes, please. Whatever though, I respect it all. I just think the over the top high fashion people should respect the 'pretty' stuff too.
I just remember Manoush being one of those places where you can walk in & see brilliant clothing that makes you feel glad to be a woman. There are a million things that make me feel glad to be a woman that have nothing to do with something superficial like fashion, however, fashion is one of those things that has the ability to make people feel good about themselves. It is a pretty powerful tool. It doesn't always have to be about shock and drama. It can be a pretty dress that you fall in love with someone in, or a delicate sweater you wear while holding your baby or a pair of beautiful shoes that you walk the streets of your favorite city in. It can be the subtle background detail in the great memories of your life that can later hang in your closet or be worn differently on a different day. Okay my rant is over.