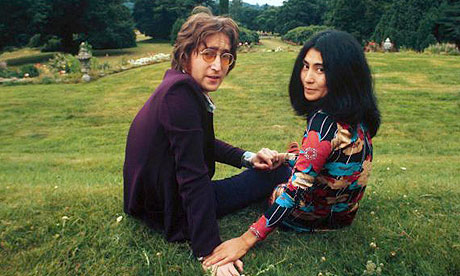 i always enjoy reading about the beatles, listening to their music, and learning more about their lives especially their personal lives. this past year i read Patti Boyd's autobiography and a Linda McCartney biography. Both were extremely interesting on different levels.
Boyd's story was almost lonely because she was George Harrison's young bride, during the 60's where they were just young, partying and adventurous, but she was sort of 'given off' to Eric Clapton. I guess George was pretty into that idea. With Linda's story, it was a more serious, heartbreaking, true love tone. McCartney had already established herself as a rock & roll photographer and single mom before she ever met Paul. After many years together, several children and her own business ventures, Linda sadly passed away from breast cancer.
This
picture breaks my heart. (Paul looking at Linda's photography)
Linda was the real deal, and so was Yoko Ono, where Boyd was sort of just a young love. Either way, I love reading about love, especially mixed with great style and good music. Biographies/autobiographies will never stop inspiring me to try and make sure my life is what I want it to be. Will I ever be parading around India with superstars ? Doubt it, but whatever!