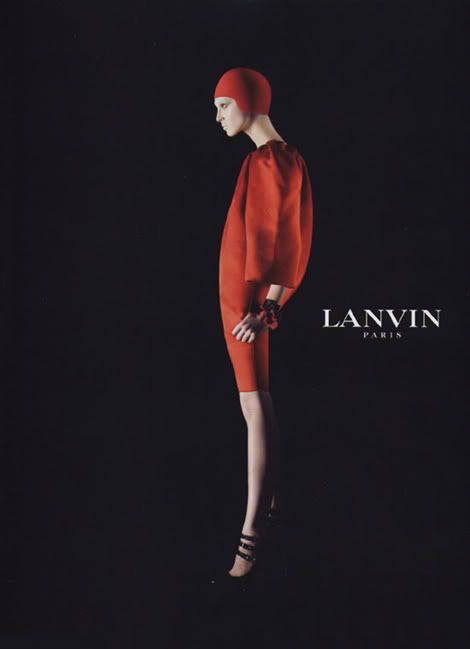 when someone asks me "who is your favorite designer?", it stresses me out. Just like the "what's your favorite album/favorite band?" question. To someone who is passionate about those two things, those two questions are a headache. I don't have just one answer. I have many. With those many answers, I have many reasons why to help support it. Memories, moods, phases in life, levels of favoritism, etc. My 'favorites' of anything are listed in a big, over-sized, over-stuffed, bursting-at-the-seams notebook that exists only in my head.
As far as designers go, my list truly is a bit all over the place. Chanel is a classic choice, and one that automatically pops into my head but so does Balenciaga, Dries Van Noten, Karen Walker, Rick Owens, and Anna Sui. All are very different, obviously, but that's the fun part. Rodarte is an ultimate favorite, but so is Lanvin. Lanvin and Rodarte relate because their designs represent the contrast between quiet femininity and eery darkness.
Lanvin is a classic French fashion house that has been around since 1909. With each recent collection there is a sense of nostalgia, the ode to the vintage woman of the past but there is a sense of edgy darkness that looms over each piece that gives it the perfect finishing touch. Every woman has that darkness in them whether they want to show it or not. They can cover it up with a bubble dress made of the most beautiful silk, in a vibrant and whimsical mustard or rose color but it still shows somehow. A darkness that might not necessarily be sad, but more wise. A sense of "i've seen it all, i've learned a lot, i've felt it all" exudes, which I think is a reason why you can see a 20 something year old woman in a Lanvin piece and you can also see a 70+ year old woman in a Lanvin piece.
It's classic and age-less but it certainly appeals to a certain type of woman that's not going to be bouncing around in a Betsey Johnson frock spilling champagne all over her cleavage. She's probably never done that and never will.
Recently, I read somewhere that Alber Elbaz (current head designer) stated that women always tell him that anytime they wear a Lanvin piece, somebody falls in love with them. This is interesting because the pieces don't give off a fun, sex symbol, flirtatious feel that a lot of mainstream womenswear tend to give off. Lanvin designs are smart and interesting with a little something mysterious that's hiding. The only women (and men) who can pull off Lanvin properly are the ones who fit that exact same description also. Smart, interesting with a little something mysterious hiding. I can't think of any decent person that wouldn't fall in love with that.