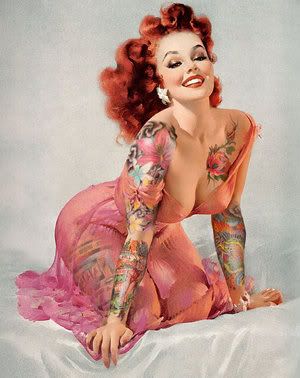 for my first assignment for Intro To Fashion Design, we have to come up with a concept & storyboard. After coming up with a number of ideas, I decided to concentrate on the whole idea of vintage tattoos, specifically pin-up girl type tattoos that marines/sailors & other men would get on their bodies back when the idea of tattoos were a huge taboo, let alone having a scantily clad, voluptuous woman permanently inked on your body.
i love the whole pin-up girl look and what it meant for women (this can be debated as a positive or negative, of course, but I like to see it as a positive), and it's a style that has carried on to the current times. The silhouettes of their dresses, swimwear, tops, bottoms, etc. all carry that mix between 'innocent good ol' girl next door' and completely sexy. It's all over the place in fashion now whether it's the whole sailor/nautical feminine look or the rockabilly look. I don't know, it's all so interesting. The hair, the poses, the make up, all of it is so staged to present this huge fantasy that men were so into that they would actually get it etched into their skin forever.
After exploring on the internet and grabbing so many photos, I took out two books from the SCAD library that I cannot wait to delve into. The first one is
Vintage Tattoos
(which I can't put down already) and the second is
Pin-Up Grrrls: Feminism, Sexuality & Popular Culture
. Hopefully my teacher will be supportive of this idea because already it's something I really am enjoying learning more about. It will be interesting to eventually come up with a full on garment inspired by this idea.